With China leading the way and India overtaking the US, emerging markets were the big story last year when it came to downloads
Following the release of our 2017 Retrospective Report, the industry's largest and most trusted analysis of the state of the app economy, we'll be highlighting some key areas of the report in an ongoing series.
In our previous posts we looked at consumer spend, downloads, engagement and much more. Now we're putting a spotlight on the countries that lead the world in downloads, with a particular focus on emerging markets.
Notably, four of the top five countries by downloads are from emerging markets, with China standing far above the rest, as we previously covered. And as China is proving, the opportunity to monetize will be massive as these markets continue to mature.
Of particular note is how app usage grew rapidly in India, driven by the introduction of subsidised, unlimited 4G access by Jio in September 2016.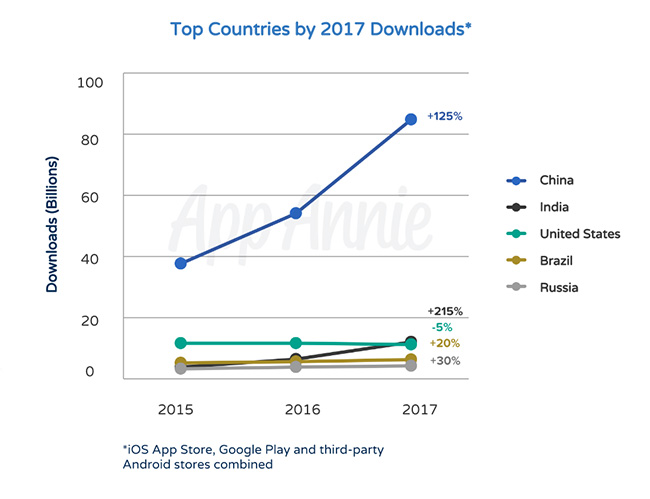 It's also important to note that despite growth stabilizing, we're still seeing a significant volume of absolute downloads in mature markets. For example, in the United States, on average, users downloaded three apps per month, with over 70% of users downloading at least one app per month.
This focus on emerging markets is only a single highlight in a wide-ranging report. For much more, including in-depth analysis of the year's biggest apps and stories, download the App Annie 2017 Retrospective Report directly on the page by filling out the form below. Customers who log-in can download immediately.